Coinsaver, good habit of saving money
Moving Character Coin Saver
Every time when a coin is deposited into the saver, its ear or tail portion makes a swing so that the child enjoys the double pleasure of saving. Having your child putting a sheet of paper, written down with his or her new year s wish, into the Character Coin Saver, you teach your child the lesson of saving coins throughoutthe year.
More decorations you make, more delightfulness you get!
By inserting this and that into the grooves without using a pair of scissors, a knife and glue, you can make a Coin Bank beautifully, easily and simply.
Specification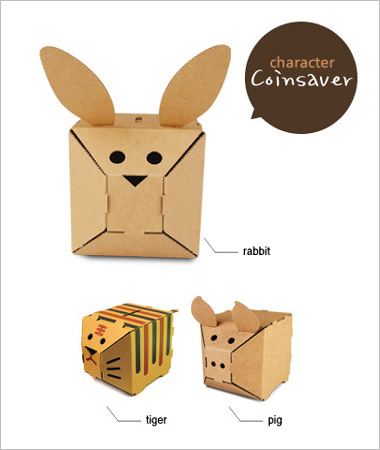 Coinsaver-Pig (Plain), Coinsaver-Pig (White), Coinsaver-Rabbit (Plain), Coinsaver-Rabbit (White)
| | |
| --- | --- |
| Size | 87 x113 x 98mm / 3.4 x 4.4 x3.9 inch |
| Weight | 0.04kg / 0.1 lb |
Packing Information
| | | |
| --- | --- | --- |
| | Unit | Box |
| Size | 255X305X5mm | 330X450X305mm |
| Weight | 0.1Kg | 9.5Kg |
For children to think of good environments, let them learn a habit of saving!
In order to have our children, who will be the leaders of our next generation, grow healthy and happily, the earth and our environment also needs to become healthy. Don't you feel it is time to think of how we can protec
t our environment before the precious, dangerous species are disappeared from the earth?
Specification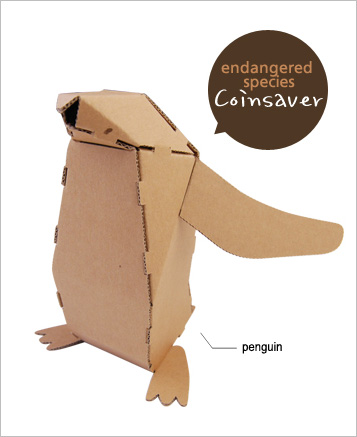 Coinsaver-Penguin (Plain), Coinsaver-Penguin (White)
| | |
| --- | --- |
| Size | 120 x 110 x 170mm / 4.7 x 4.3 x 6.7inch |
| Package | 230 x 300 x 5mm / 9 x 11.8 x 0.2 inch |
| Weight | 0.07kg / 0.2 lb |
Packing Information
| | | |
| --- | --- | --- |
| | Unit | Box |
| Size | 230X300X5mm | 330X450X305mm |
| Weight | 0.07Kg | 9.7Kg |